By Chux Odoh
For neutrals whose countries are already out of Russia 2018, yesterday's Round of 16 matches were a delight to watch. Both games ended in 1-1 stalemates and had to be settled via penalties.
Russia got the better of Spain courtesy of Igor Akinfeev, their heroic goalkeeper who saved two shots from the spot. For Denmark, Kasper Schmeichel saved three penalties on the night- one during the game that denied Croatia and outright win and two during the shootout- his teammates on the other end only scored two and thus marked the end of their world cup adventure.
After yesterday's games, the total number of matches that have been decided through penalty shootouts in the knockout stages of the FIFA World Cup became 28; which may be surprising, seeing that the competition started in 1930.
Although it was invented as a tiebreaker as far back as 1902, penalty shootouts were not always part of the FIFA organized tournament. They were only introduced at Argentina 1978 World Cup. Even at that, a game didn't go into penalty kicks until the next one in Spain 1982. West Germany became the first country to win through PK's, beating France in the semifinals.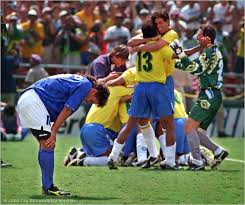 Nigerian fans old enough to have watched the USA 94 World Cup would remember the heartbreak of watching Robert Baggio beat Nigeria through a penalty kick (this from a foul in the18 yard box). They would also remember with some schadenfreude, how the same Baggio lost his own penalty kick in the final against Brazil.
With four more second-round games to play in this World Cup- in addition to four quarterfinal matches, two semifinals and then the finals; there's no saying how many more games will be decided by penalty shootouts. Viewers will definitely enjoy the thrill. Players, maybe not so much.
Penalty Shootout Trivia
Total number of penalty kicks taken: 180
Most successful team: Germany (Played 15 kicks, Won 4 matches)
High scoring team: Argentina (17)
Team with the most misses: England (5)
Worst team: Switzerland (scored 0 of 5)
Longest streak: Romania vs Sweden USA '94 (12 kicks each)
The post Here's A Quick History Of Penalty Shootouts In The FIFA World Cup appeared first on Nigerian Entertainment Today.